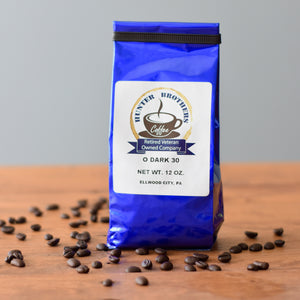 Hunter Brothers Coffee
O Dark 30
Regular price
$10.99
$0.00
Unit price
per
A uniquely dark, sweet roast, perfect for the first cup of the day. Breakfast blends are often light and flimsy – but not this one. Our special blend of 100% arabica coffee is roasted longer to create a bold, eye-opening cup that will help you start your day out right.
---
Share this Product
O Dark 30
We have just started brewing this blend and like it. We do not use cream and
sugar and find there is no bitterness in this coffee. We are still exploring
Hunter Brothers coffees but would definitely consider buying this again
Very smooth and rich in flavor
Excellent Dark Roast
Fresh, flavorful, and an overall solid choice for anyone who enjoys a dark roast. I look forward to trying the other dark blends!
All Time "FAV"
O Dark 30 will always be my FAV!
A touch of Spain
I personally like the Torrefacto very much; my wife not so much as she thinks it somewhat bitter. I drink my coffee black, mostly but she always has more milk than coffee in her cup (machado?) And, in Spain I always used to do a 5 0/50 "mescal" with a rich Columbian grind, always brewed in a Spanish/Portugese?Italian pot. I will buy again.
---