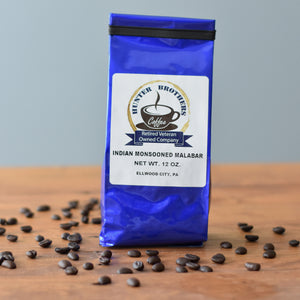 Hunter Brothers Coffee
Indian Monsooned Malabar
Regular price
$10.99
$0.00
Unit price
per
"Monsooned" is a unique process where the harvested beans are left to the monsoon winds and rains for 3-4 months.  This process produces  a heavy bodied, pungent aroma with flavors of spice and nuts accompanied by a lower acidity.
---
Share this Product
Smooth and clean
This is an excellent example of the Indian monsoon process. Clean and smooth with no aftertaste.
Smooth, Creamy, and More
I read about Hunter Brothers in a recent issue of Wine Spectator. I am a budding wine snob and very particular about my coffee as well. I have been looking for a combination of price and quality, and so far, I have found it with the brothers Hunter. This coffee is smooth, mouth feeling, and very creamy. It does this without feeling too heavy and syrupy. It is perfectly roasted as to provide a bit of that taste without masking much if any of the bean's natural flavors. This coffee has mild chocolatey notes that are enhanced by adding a small amount of milk. The price is right though I had to pay for shipping. But that's to be expected. They can't just send it to me free every day of the year. I wish the company were here in Albuquerque, but I am very satisfied with their prompt deliver and reasonable rates. Check them out.
Indian Monsooned Malabar
It was ok for a dark-medium roast, but am used to this coffee being both delicate as well as very rounded and flavorful, without any burnt taste.
The medium roast you sent is more flavored like a dark roast. I would like to experiment with you sending me the same coffee, but in a light roast. This is what I usually get abroad.
I think American palates have been ruined by Starbucks and other coffees that roast always more on the dark and slightly burnt taste. If you are able to experiment for me and light roast the Malabar, I'll be curious to see how it meets what I am used to. Let me know if you can do that! I actually took a picture of what I purchased in Paris and the coffee you sent. I will try to send it to you!
Thanks, Jane
Excellent coffee excellent service
Excellent coffee provided with exceptional service
---