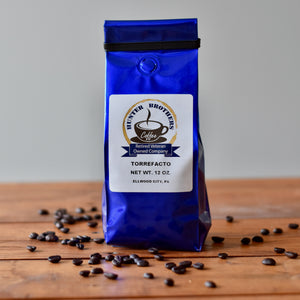 Hunter Brothers Coffee
Torrefacto
Regular price
$14.99
$0.00
Unit price
per
Torrefacto coffee is rarely imported into the United States, even though it is the preferred roast for cafes in Spain. Here is 100% Torrefacto Roast for coffee aficionados who want to make their own personal blends. . Torrefacto is produced by a special roasting process that produces a remarkably robust, full-bodied cup of coffee, without a hint of bitterness. Raw coffee beans are coated with a fine mist of sugar before they are poured in the roaster
---
Share this Product
give it a try
i have not tried this brands torrefacto, but i have tried a freeze dried torrefacto. its not as complex as premium arabica roasts, but it has a unique flavor profile, that i would insist anyone with an interest in the history and culture of coffee should try at least once. im sort of hooked on it. the one i tried had a more burnt quality, like an espresso roast, which i like as i looove dark roasted beans. I would encourage anyone curious, to try this style, ubiquitous in spain. this is what they have been drinking there since the spanish civil war, so its a page out of history trying this. you might just fall in love with it.
Coffee
I liked the coffee very much. Just can't afford $20 for 12 ounces. I can buy 2 pounds of 8 o'clock for less than $15
Torrefacto
When I make a pot of Ethiopian, middle of nowhere, coffee for my friends I prepare them by saying " this ain't gonna taste like crap". Torrefacto, which I like, rich, flavorful, with notes of crap, in a good way, it brings back memories of my father's Maxwell house.
Delicious
Really liked the Torrefacto. Very smooth and not bitter. Just discovered Hunter Brothers and am trying all of the dark roasts. This is a winner!
---